U.S. Department of Labor Lauds IBEW Training Efforts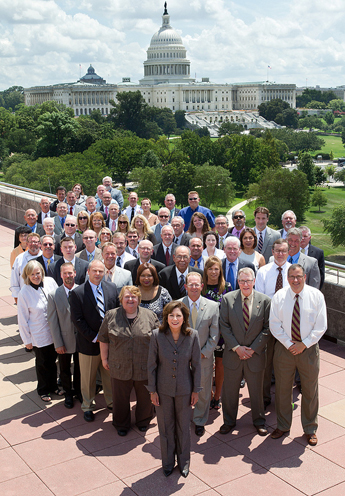 August 15, 2012
In the same week that swimmer Michael Phelps madeOlympic history, leaders from IBEW locals nationwide traveled to Washington, D.C., to win some gold medals of their own.
During a two-day event sponsored by the U.S. Department of Labor July 31 and Aug. 1, IBEW business managers joined with JATC instructors to receive recognition as being "trailblazers and innovators" in the realm of registered apprenticeship programs.
Labor Secretary Hilda Solis honored leaders from various trades and sectors – including aerospace, health care, construction, shipbuilding and more – for helping make apprenticeship programs a key to a successful 21st-century work force.
"I believe deeply in registered apprenticeship programs because I've seen how they can change lives," Solis wrote on her blog last week:
Since my very first day as Secretary of Labor, I've called apprenticeships one of America's best-kept secrets. It's been 75 years since the National Apprenticeship Act was signed, and in that time, apprenticeships have come a long way to advance the quality and breadth of training available to America's workers. We have reinvented apprenticeships in ways never imagined back then.
Getting recognized "was a great feeling of validation," said Gary and Hammond, Ind., Local 697 Business Manager Ray Kasmark, who attended the ceremony with the local's JATC Training Director Ken Jania. "I think we're on the cutting edge with our training, and Ken's done a wonderful job."
Kasmark praised many attributes of the JATC's instructional efforts and facilities, including a new training center – outfitted with state-of-the-art lab equipment – as well as college course credit offerings and outreach programs for budding minority tradesmen and women across the state.
Other training directors and IBEW leaders singled out for recognition hail from Washington Local 26; Lansing, Mich., Local 352; Sioux Falls, S.D., Local 426; Columbus, Ohio, Local 683; Minot, N.D., Local 714; Oklahoma City Local 1141; Rapid City, S.D., Local 1250; and Grand Forks, N.D., Local 1426.
Read more at the Department of Labor's blog.

---
Permissions in this forum:
You
cannot
reply to topics in this forum